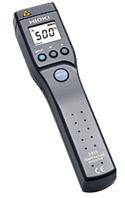 Radiation Type TEMPERATURE HiTESTER (Hioki 3415-01)
Quick and easy, a hand-held non-contact temperature measurement.
These models can measure surface temperature of an object without coming into contact with it. This is done by sensing the infrared radiation energy which all bodies emit in accordance with their temperature.
Features:
Measurement range: -50 °C to 500 °C, 1 °C resolution.
Accuracy : ±1 % rdg. (at 201 to 500 °C), ±2 °C (at 0 to 200 °C), ±10 % rdg. ±2 °C (at -50 to -1 °C).
Response time: 0.5 seconds (95 % response).
Two-beam laser marker.
Upper and lower alarm.
Maximum /minimum display.
Auto power OFF.